I maybe the dorkest mom alive but I am a huge fan of Thomas the Train. His round blue face and playful attidue keep me just as entertained as my four children. My warm feelings for this lovely character were no different with the newest DVD, Thomas & Friends: Thomas in Charge.
The first episode was my favorite lesson of them all, always listen closely. My children tend to take what I say one ear and out the other while continuing to do things that sometimes lead them down the wrong path. This is exactly what happened to Thomas as he ventured away from his given job to do what he thought was best instead of what he was told to do. My children knew right away what Thomas had done wrong and mention it each time we view Thomas in Charge (especially when they have friends over).
This is by far our most watched Thomas the Train DVD so far. It is the movie of choice at least once a week in my home and I expect it will continue to be so for some time. I give it a glowing 5 stars for younger viewers.
DVD SYNOPSIS
Clickity-Clack, Thomas is back in exciting, engine-packed adventures! Thomas and his friends are preparing for the Railway Inspector's visit to Knapford Station. But when the coal trucks crash, covering Gordon in soot, can Thomas take charge and help straighten out the mess? Find out as Thomas charges full steam ahead into fun!

Episodes include:

· "Thomas in Charge"

· "Henry's Good Deeds"

· "O The Indignity"

· "A Blooming Mess"

DVD BONUS FEATURES

· "Thomas' Track Trivia" Game
ABOUT THOMAS & FRIENDS™
Thomas the Tank Engine was created by a father for his son over 65 years ago and today is enjoyed by families in more than 185 territories and in 30 languages. The #1 blue engine and his friends invite children to enter a world of imagination through the tracks of a train and the words of a story. Children embark on adventures with their engine friends while experiencing timeless life lessons of discovery, friendship and cooperation.

Thomas & Friends is the number one preschool toy property in the UK, a position it has held for the past 11 years. It remained the number one preschool toy license in the US for 10 straight years[1] and has been the number one preschool entertainment brand in the US since 2009[2]. The unrivaled popularity of the global brand continues with Thomas also being the number one preschool toy license in Germany and Australia, as well as the number one foreign preschool brand in China, Japan and Korea.

(SOURCE: AC Nielsen, 1/1/10-12/31/10). Each DVD release is consistently ranked in the Top 10 new releases for Children's Non-Theatrical (source Nielsen) and many have received significant awards and recognition from organizations such as Parents' Choice and KIDS FIRST!
Visit http://www.thomasandfriends.com/ for Thomas & Friends games, videos, activites, apps and more.
BUY IT: Purchase Thomas & Friends: Thomas in Charge from Amazon.com, Target or other stores where DVDs are sold.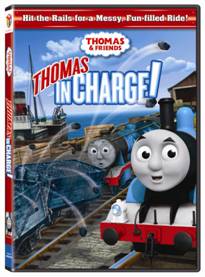 Win It:
One lucky Mom to Bed by 8 reader will receive a Thomas & Friends: Thomas in Charge.
CLOSED!
Disclosure: I was provided a sample for review. My opinions are my own. Please view our disclosure policy if you have any questions.