On the sixth day of Christmas, Mom Powered Media brought to me 2 thinksport LIVESTRONG Insulated Sports Bottles to add more green glee!
Proudly introducing the new thinksport LIVESTRONG insulated sports bottle! Features:
Double-walled and vacuum-sealed stainless steel – keeps contents hot or cold for hours
Perfect of hot or cold beverages – does not sweat (for cold contents) or burn your hand (for hot contents)
Contoured design – makes the bottle easy to hold and visually distinctive from the many, many straight-walled bottles
Removable mesh filter – keeps ice from blocking the drinking spout and allows users to conveniently brew tea on the go
Unsurpassed testing for material safety – our products undergo rigorous chemical and biologic testing to insure they do not contain toxic chemicals
Available sizes: 750ml (25oz) and 350ml (12oz)
So most of you know I am a green mom and those of you who don't will soon enough. In fact my eco-friendly roots run all the way to my daughters who are even bigger on recycling and upcycling than their mom. Can you imagine how proud I am every time they give the ugh look at bottled water and reach for a resuable container like the thinksport LIVESTRONG insulated sports bottle? It is an amazing feeling to know that my good habits wear off on them.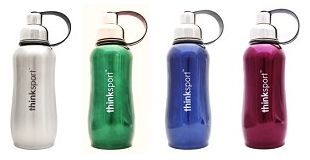 Now unlike my MPM Partners, I reviewed the thinksport Insulated Sports Bottle – 25oz (750ml) – Natural Silver instead of the livestrong selection. It has many of the same features including the hot or cold beverage options. Which are ideal for the coffee to water days I have. Seriously I could not function without them. Even when hot liquid is inside the bottle, it is only slightly warm to the touch and when cold is inside, this thing sweats not! So no need for those pesky napkins many of us keep in our cupholders.
All in all I have been a thinksport and thinkbaby fan for sometime. My older son only used their BPA Free bottles which made a natural transition to their resusable bottles. In fact I still have one of the BPA free in the cabinet as they seem to withstand the test of time. So without a doubt you can feel safe in the long lasting quality.
Really what it boils down to is if you are willing to make the change from disposable to reusable. I say grab one and give it a go. You just may suprise yourself in how simple it really is!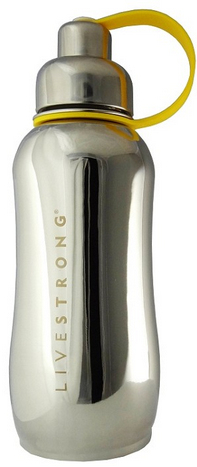 One lucky reader will receive a 2 thinksport LIVESTRONG Insulated Sports Bottles!
Giveaway ends December 13th at 11:59pm, open to US residents, ages 18+. To enter please use the Rafflecopter form below. Good luck!
Disclosure: I receive sample(s) from for purpose of testing and review. My opinions are my own and may differ from those of your own. I am disclosing this in accordance with the Federal Trade Commission's 16 CFR, Part 255: "Guides Concerning the Use of Endorsements and Testimonials in Advertising." Please view our disclosure policy if you have any questions. Mom to Bed by 8 is not responsible for sponsor who do not fulfill prize shipments. However we will make several attempts to ensure this does not happen.