Are you tired of having your mixing spoons slide down into the pans while cooking? I am the worst about leaving my spoons in the pan only to come back to stir again and burn myself. So you can imagine my excitement when I received this Set of 4 Convenient No Mess Cooking Utensils by Lori Greiner.
I received a stirring spoon, slotted spoon, ladle and spatula for review. The utensils are specially designed to hang from the inside of your pans to keep them within reach and also eliminate the mess around the cooking area. The utensils are made of stainless steel with silicone handles. I know many people do not like a plastic spatula but I actually prefer it. I like to keep my cookware free from scratches caused by metal utensils. The ladle is a very handy utensil in my home as well. I make many crock pot meals, beans and soups and it's much easier to use a ladle when serving versus a regular stirring spoon.
As you can see above, the spoon fits and hangs perfectly on my pan and there is plenty of room at the top to still keep the handle from getting to hot to touch. I no longer have to worry about forgetting to take the spoon out and getting burned, or laying the spoon on my stove top and making a mess everywhere. Everything stays handy inside the pot!  It makes my job so much easier in the kitchen while cooking for a family of 6 and usually a few more that pop in daily for dinner.
The approximate measurements are 12″ for the spoon and ladle and 13″ for the spatula.The spatula is heat safe up to 400 degrees and the spoons and ladle are heat safe up to 500 degrees. I am anxious to try more of Lori Greiner's Creations in the near future! They make a perfect gift for anyone that cooks and needs more ease in the kitchen.
This review was made possible by the Star of ABC's Shark Tank & Queen of QVC, Lori Greiner. You can catch her on TV twice tomorrow, Friday night (3/8). First on QVC for her 1 hour Clever & Unique Creations show at 8PM ET, then after on ABC's Shark Tank at 9/8 PM c! It's going to be an exciting night!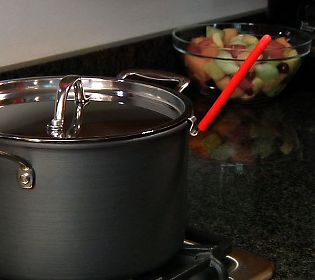 One lucky reader will receive a 4 pc set of Lori Greiner No Mess Cooking Utensils!
Giveaway ends March 22nd at 11:59pm, open to US residents, ages 18+. To enter please use the Rafflecopter form below. Good luck!
Disclaimer: I received the above mentioned products for review purposes only. All opinions are that of my own and may differ from those of your own