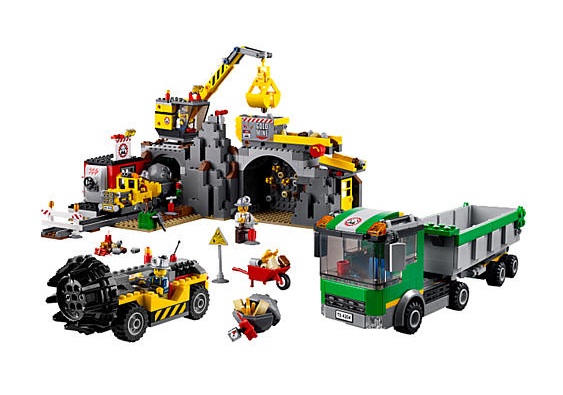 Lego has been keeping our kids entertained for generations, and is clearly doing something right when girls and boys alike spend hours creating miniature worlds and inventing games around the characters.
Lego City: The Mine is a fantastic set, which will provide hours of fun for any older child (and any father), meaning hours of peace for Mom – until she steps on one of those little bricks! It's a pretty large set, with over 700 pieces, but there are a number of different elements to build before the scene is complete, including a train, a spinning drill and a moving crane. This means that instead of buying a set, completing it quickly and having nothing left to do, a child can build each element at a time and gradually build up the pieces of a larger world.
There's some great detail in the pieces, and the fun certainly doesn't end when the scene has been completed: the drilling machine lets them break up the rocks and collect the gold, which can then be transported by the train to the conveyor where they drop into the truck ready to be taken away and locked in the safe. The Lego City sets give kids something to feel proud of too, because they're so expansive and intricate.
The beauty of Lego lies in the satisfaction of playing with something created from scratch. It's a lovely way for children to become accustomed to working practices and a great way for kids and parents to bond through play. This set is suitable for children aged between 6 and 12, although it may be challenging for children at the lower end of that range.