Of blue, green and brown, green is the rarest eye color. This makes the color more unique, exotic and appealing. The rarity also makes it harder to find make up tips and tricks in beauty magazines, blogs and other go-to outlets for beauty advice. Here are three tips to help you choose the right color cosmetics that will make your green eyes even more gorgeous and alluring than they already are.
Choose Warm Colors
When choosing eyeshadow for green eyes, look for warm colors with a red undertone. Red and green are opposites on the color wheel, making them complimentary to each other. While no one is suggesting you wear bright red on your lids; simply choose colors with red undertones that will brighten your eyes and enhance their natural beauty. Try experimenting with some of these shades.
Plum, purple and lilac are all universal color choices for day or night.
Dark Brown shades will play up the subtle flecks of color that are found in green eyes, day or night.
Metallic colors such as bronze, copper and gold will turn up the heat on a cold winter night.
Dark green shades with flecks of are also a good choice for night.
Even though shimmering silver shades are all the rage on the runway this season, people with green eyes should avoid cool colors such as these. You will look like a green-eyed monster instead of the exotic creature that you are!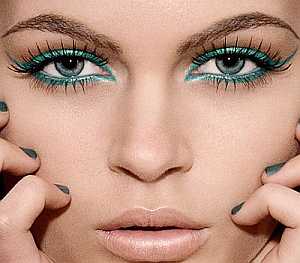 The Rule Of Three
No matter what color of eyes you have, you should limit the number of colors you apply to your lids to three. Start with a lighter color such as white, ivory or a light green just below the brow bone. Next, apply a medium shade of the warm color of your choice on the rest of your eyelid. Finally, apply a darker color in the crease of your lid starting at the outer corner and working your way in.
Brown, Not Black
Eyeliner and mascara will add the exclamation point on the statement that your eyes make. A common mistake that women with green eyes make, however, is using black mascara or black eyeliner because that is what they see in magazines right now. Again, this is a cool color and can look too harsh with green eyes—especially if you have a lighter complexion or red hair. Instead, try using a brownish-black colored mascara and lining the eyes with a brown pencil. To create the subtle smokiness that is currently en vogue, run a smudging brush across the eyeliner. You can also turn a dark brown powdered eyeshadow into smoky eyeliner simply by dipping a brush into a bit of distilled water and then running it across the powder.
If you follow these simple steps, you will make your green eyes even more gorgeous every time. The key is to start with a complimentary color, highlight the brow bone with a lighter shade and add a darker color in the crease. Finish with brown eyeliner and brown mascara.  Voila! You have created a flattering look that will make all of those brown- and blue-eyed girls green with envy!