Some of my fondest childhood memories are watching the newest Walt Disney film on VHS with my family during the holidays. It was just as much tradition as the turkey and dressing to us. This is one of the things I want to continue on with my children as sweet memories such as these can be created with the littlest of effort and cause such much joy in a little one's heart.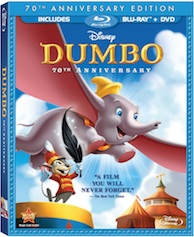 I can almost see myself even now watching Dumbo for the first time and the light in my smile when his big ears opened open for the first time. I realized in that moment that everyone is different and some have easier seen flaws than others. Though in the end we are all something special inside.
That bright smile and warm light was brought to life once again in my daughters' eyes when we watched Dumbo for the first time on Blu-Ray last week. They knew by the end of the show, exactly what lessen was to be learned. Yes, we all shed a few tears and lots of laughs, but that is what Disney is know for. They create this wonderous world with a series of heartfelt emotions all wrapped up in one show for all to enjoy.
I for one am excited everytime Disney brings back a childhood favorite of mine. I normally find myself at the store by 9am on the day of release grabbing a Blu-Ray/DVD copy and waiting on my toes for the kids to get home to watch it with me. I know this is a family tradition that I will pass down just as my parents did for me.
BUY IT: Disney's DUMBO is available for a limited time only on Two-Disc 70th Anniversary Edition Blu-ray / DVD Combo Pack and DVD edition from Amazon.com, Target and other locations where movies are sold.
Dumbo

70th Anniversary Edition

In celebration of this landmark film's 70th anniversary, experience the daring adventures of the world's only flying elephant with a dazzling all-new digital restoration and brilliant Disney Enhanced High Definition Theatre Mix Sound. The inspirational tale of Dumbo, the courageous baby elephant who uses his sensational ears to soar to fame with the help of his clever best friend Timothy Q. Mouse, will thrill and delight audiences of all ages. And now, the award-winning music and empowering messages about friendship and belief In yourself reach new heights in this must-have Blu-ray high-definition presentation of Walt Disney's classic Dumbo!
Please share the activity page below with you family.
Disclosure: I received a sample for the purpose of review. My opinions are my own. Please view our disclosure policy if you have any questions.