One of my biggest pampering traditions is a manicure and pedicure at least every other month. Unfortunately though I am not able to afford to head out to my favorite salon to have this done as often as I would like. So I am always on the look out for products that work as hard as I do to keep my nails and toes beautiful. Recently we gave Barielle a try and the results were enough to make me smile for days and days.
First product on our list was the Barielle Nail Strengthener Cream. This helps strengthen nails to resist splits, peels and breaks and is a daily use item. Three weeks in I had the longest nails I have in two years and they were completely natural. This was super easy to use and could be applied even over polished nails. This is a must have for my collection.
Next we demoed the Barielle Total Foot Care Cream. This is an Allure Best of Beauty Award Winner and it is no secret why. This product contains no harsh ingredients that would cause peeling and has a light baby powder fragrance. My husband fell in love with this foot cream and requests it often. To be honest I do not mind at all as it leaves his heels and overall foot condition soft and they look great.
Finally my favorite of them all was the Barielle U Concrete Me polish. This is my first color of its kind and I was sold immediately upon application. This color goes with everything from pink to white to black and any other mixture I can find. The polish itself is amazing and needed no maintenance until day 6. This is saying a lot for this super busy and rough mom to four. I fully plan to start making a beauty investment in Shades of Barielle and at just $8 a bottle, it is not breaking the bank either.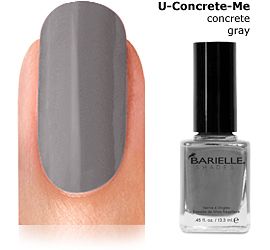 About Barielle:
Their story began more than 30 years ago at the Belmont Racetrack. Husband and wife equestrian aficionados devised a breakthrough formula to condition the hooves of their million-dollar thoroughbred racehorses. Reformulated for women and men, the miracle product "Nail Strengthener Cream" was born and Barielle was founded. Their Barielle Nail Strengthener Cream, which helps nails grow healthier and stronger while resisting splits, peels, and breaks, remains a best-selling product even today.
Win It:
One lucky Mom to Bed by 8 reader will receive Barielle Nail Strengthener Cream.
CLOSED
Disclosure: I received a selection of Barielle products for review. My opinions are my own. Please view our disclosure policy if you have any questions.