FROM THE ASHES OF GREAT TRAGEDY CAN COME GREAT ACHIEVEMENT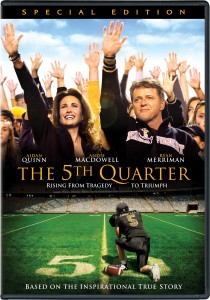 A Triumphant Story of Family, Faith and Football,
THE 5TH QUARTER Comes to Blu-ray and DVD August 30
When a close-knit family is nearly broken by tragedy, hope is restored by their eldest son who carries the weight of victory on his shoulders in THE 5TH QUARTER, coming to Blu-ray and DVD August 30 from Twentieth Century Fox Home Entertainment.
The 5th Quarter is based on the true story of Jon Abbate, a rising star on the University of Wake Forrest's football team whose younger brother, Luke, gets into the car of a reckless teenage driver and loses his life in a horrific crash. Jon's parents make the tough decision to give up Luke's organs, which enabled five different people to continue their lives. Upon his return to school, Abbate is determined to dedicate his season to his fallen brother, and changes his jersey number from his long-standing 40 to his brother's number 5 in memorandum.  Abbate also began a tradition of putting his hand out in the air with his five fingers extended to his parents sitting in Section 5. Quickly his teammates would soon join him, as well the fans, and through the season, even the opposing players.
WIN IT:
One lucky Mom to Bed by 8 reader will receive a copy of this compelling story, The 5th Quarter.
Disclosure: I was provided a sample for review. My opinions are my own. Please view our disclosure policy if you have any questions.