The mission at snackTAXI is to make high quality, affordable reusable bags that empower everyone to reduce waste, while embracing business practices that respect our community, environment, and Earth.
The first snackTAXI was invited way back in 2003 as a way to stem the tide of plastic ziplock bags that flowed from house to the landfill.
snackTAXIs are easy too – really! They are made in their rural Massachusetts workshop by talented (and fun!) local sewers. SnackTAXI is committed to keeping our business local, and will never outsource their labor.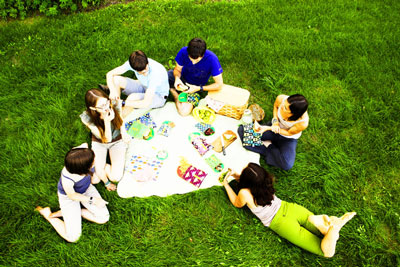 snackTAXIs are a great alternative to plastic bags and wraps, especially when just one reusable bag has the potential to eliminate an average of 1000 plastic bags over its lifetime!
snackTAXIs are lined with coated nylon, and can be machine washed and dried, or simply wiped clean with a damp sponge.
From Mom to Bed by 8
As a mom of seven, I can safely say that in the last several years my family has probably come close to a 13 gallon trash bag full of wasted plastic baggie containers. It is clearly nothing to brag about. Then about this time (right before school) two years ago we discovered SnackTAXI and developed a fond love for reusable snack bags.
Our first three sets are still in use after at least 100 washes and scrub downs. That says alot about the quality of SnackTAXI! Do you think you could reuse a plastic bag one hundred times and it still function properly? I think not, unless you have a super power I do not posses. Let's be honest they were made to be disposable and it is time to take charge of what gets tossed in the landfills of your planet and make changes even as simple as the one SnackTAXI offers.
Plus with SnackTAXI you can stay a little stylish in your love for the green. They offer friendly designs and so many it is safe to say there is really something for everyone. Not to mention new designs are added often. Don't waste another $5 on a box of bags that are destined for the trash. SnackTAXI is reasonably priced at $8.95 for sandwich size and $7.95 for snack-sacks. Very quickly you will start to see the financial advantages of making the baggie change as well.

One lucky winner will receive a SnackTAXI Snack-Sack!
Giveaway ends July 26th at 11:59pm, open to US residents, ages 18+.  To enter please use the Rafflecopter form below. Good luck!
Javascript must be enabled to enter this giveaway. Learn how to activate Javascript by
clicking here.

Loading Entry-Form
 Disclosure: I receive sample(s) from for purpose of testing and review. My opinions are my own and may differ from those of your own. I am disclosing this in accordance with the Federal Trade Commission's 16 CFR, Part 255: "Guides Concerning the Use of Endorsements and Testimonials in Advertising." Please view our disclosure policy if you have any questions. Mom to Bed by 8 is not responsible for sponsor who do not fulfill prize shipments. However we will make several attempts to ensure this does not happen.